Since ChatGPT and AI have taken the world by storm, people are now using AI voice generators to clone their voice and create content with AI online.
So what are the best celebrity AI voice generators you can use? Here, in this guide, we'll reveal the best 8 celebrity voice generator tools for you and tell you about the best option.
In this post, we'll dive into the world of best celebrity AI voice generators and text-to-speech software you can use to clone your (or any other voice), exploring their various uses and addressing some of the ethical dilemmas surrounding them. We'll also introduce you to the top platforms offering these services for different purposes.
How do the best celebrity ai voice generators work?
The best celebrity voice generator online is subjective and can vary based on individual preferences. AI voices can still be detected.
These cutting-edge tools use deep learning algorithms to analyze speech patterns and recreate them, making it possible for users to generate audio clips of famous personalities saying whatever they want. From personalized messages to content creation, the applications are virtually endless. However, this exciting innovation doesn't come without its share of ethical concerns and potential misuse.
The growing popularity of AI voice generators can be attributed to their impressive accuracy in mimicking not just any voice but specifically those of well-known celebrities. Imagine having Morgan Freeman narrate your audiobook or Samuel L. Jackson guide you through your GPS! These applications open up new avenues for content creators looking for unique ways to engage their audience.
However, with great power comes great responsibility. The potential misuse of this technology raises questions about privacy and consent. For instance, generating a fake audio clip of a celebrity endorsing a controversial product could lead to legal battles and reputational damage.
Despite these concerns, many platforms have emerged as leaders in providing best-in-class celebrity AI voice generators while adhering to strict ethical guidelines. Some examples include Respeecher, which focuses on transforming existing audio into new voices while maintaining consent from original speakers; CereProc specializes in creating high-quality synthetic voices for various industries; Voicery offers customizable text-to-speech solutions with a wide range of voice styles.
1. 11 Labs: Best Overall celebrity ai voice generator
In the world of AI voice generators, 11 Labs stands out as the ultimate tool to bring your favorite celebrities' voices to life. 11labs is a celebrity voice generator and compact voice-changing tool that enables real-time voice transformation.
This user-friendly platform allows you to easily craft authentic-sounding voiceovers for a variety of purposes, such as entertaining your peers or adding a unique touch to your creative projects.
With 11 Labs at your fingertips, the possibilities are endless, and you'll be amazed at how realistic these AI-generated voices can be. So why wait? Grab your exclusive Link for a free trial here.
2. Play HT
Play.ht is a powerful AI-powered text-to-voice generator that can convert text into natural-sounding speech, downloadable as MP3 and WAV audio files​​.
With 907 AI-generated voices in 142 languages and accents, Play.ht will definitely find your AI celebrity voice! Celeb voices, female voices, voice synthesis, they have it all!
It's a versatile tool useful in various applications including marketing, explainer, and YouTube videos, e-learning materials, API integration, IVR and telephony systems, and audio articles embedded on websites for increased accessibility and engagement.
Pros of Play HT
One of the key strengths of Play.ht is its user-centric approach, with features and enhancements driven by user feedback. The tool also allows free previews without using up word credits – a unique feature among text-to-speech platforms. The upcoming Zapier integration will allow Play.ht to be integrated across thousands of applications, further enhancing its versatility​1​.
Its powerful text-to-audio online editor allows users to fine-tune voice inflections and custom pronunciations, enhancing the naturalness and engagement of the audio output​1​. Collaboration is also made easier with team access, allowing multiple users to work together on audio files​1​. Users can securely store and manage audio files in the cloud, and exported files can be used for both commercial and personal use with full rights​1​.
Con's of Play HT
Play.ht, however, may not be as affordable as some alternatives, especially for smaller businesses or individual users. While it does offer a free tier, the usage limitations may not be sufficient for extensive text-to-speech needs. Furthermore, unlike some competitors, Play.ht does not offer a built-in plagiarism detector. But despite these minor setbacks, Play.ht remains a powerful, user-friendly, and versatile text-to-speech tool for various use cases.
Pricing
Play.ht's pricing structure is straightforward and flexible.
The Free plan offers 5,000 free words per month and access to premium voices for non-commercial use. The Professional plan at $29.25/month (billed yearly) includes 600,000 words per year, unlimited downloads and projects, and a commercial license​​.
The Premium plan at $49.50/month (billed yearly) offers unlimited voice generation, access to all ultra-realistic and premium voices, a pronunciations library, white-labelled audio players, unlimited downloads and projects, and a commercial license​​. Lastly, the Enterprise plan offers a custom pricing based on the specific needs of the user, including all Premium features with team access, multiple HQ voice clones, high priority customer support, onboarding and training, and API and voice cloning technical support​.
3. Celebrity Voice Changer
Celebrity Voice Changer is an AI-powered tool that allows you to transform your voice or text into a celebrity-like voice. Here are some key features and pricing details:
Pros:
Allows you to turn your voice into a celebrity-like voice using a simple operation: record your voice or enter text and select the celebrity voice impressions of the celebrity you want.
Powered by the latest AI technology to recreate precise celebrity voices for personalized audio files and speech​​.
Can be used for social media pranks or to have fun with friends and family, imagine the reactions when they hear a celebrity voice say their name​​.
Pricing
Monthly Plan: $19
Yearly Plan: $89
Lifetime Plan: $129
4. CereProc
Overview
CereProc is a text-to-speech technology company that creates digital voices with personality. These voices are not your average monotone robot voices, but rather they have emotion, regional accents, and they can even speak in the style of celebrities. Whether you're looking for a calm and soothing voice for your meditation app, or a peppy voice for your new interactive game, CereProc has got you covered.
Pros
Standout features: CereProc offers a wide variety of voices in different languages, accents, and emotions.
High-quality voices: The voices created by CereProc are realistic and high quality. They do not sound like your typical synthetic voices but have a natural and human-like tone.
Customizable: CereProc allows you to customize the voice according to your needs. You can adjust the speed, pitch, and other parameters to create a unique voice for your brand.
Cons
Pricing could be a bit clearer: While CereProc provides clear pricing for individual users, the pricing for commercial use is not as straightforward and requires contacting the company for a quote.
Limited free version: The free version of CereProc has a limit on the number of characters that can be converted to speech per month.
Pricing
CereProc offers different pricing plans based on the usage:
Free version: Limited to 5000 characters per month.
Pro version: $12.99/month with unlimited characters.
Bottom Line
If you're looking for a text-to-speech solution that offers a wide range of high-quality and customizable voices, CereProc could be a good fit for you. Just be prepared to get in touch with them directly if you're planning to use their voices for commercial purposes. And remember, the free version is like a sampler platter at a restaurant – it gives you a taste, but don't expect to leave feeling full.
Stay tuned for more in-depth reviews of AI tools on our blog!
Speechify
Overview
Speechify is an AI-powered text-to-speech app that's geared towards transforming your reading experience. Whether you're a student needing to get through mountains of textbooks, a professional trying to digest that latest report, or just someone looking to breeze through their favorite novel on the go, Speechify is your go-to app. With over 150,000 5-star reviews, Speechify is the top-rated AI text-to-speech app in its category​1​.
Features
AI-Powered Text-to-Speech: Speechify uses advanced AI to turn text into natural-sounding speech, making your listening experience more engaging and fluid than your run-of-the-mill robot voice​1​.
Speed Control: Are you a slow listener or a speed demon? With Speechify, you can adjust the playback speed to suit your listening style, even going up to 9x faster than the average reading speed​1​.
Cross-Platform: Whether you're on Chrome, iOS, Android, or Mac, Speechify has you covered. Anything you've saved to your Speechify library instantly syncs across devices, so you can take your reading with you wherever you go​1​.
Listen to Anything, Anywhere: With the ability to snap a pic of any page and listen to it out loud, Speechify truly means it when they say you can listen to anything, anywhere, anytime​1​.
Pros
Advanced text-to-speech technology with natural-sounding voices.
Integration with popular platforms and file formats.
Offline mode for uninterrupted listening.
Speed control for customized listening experiences.
Suitable for a wide range of users, including those with learning difficulties or visual impairments.
Cons
A limited number of voices in the free version.
Premium plans can be relatively expensive compared to other text-to-speech platforms​.
Pricing
Speechify offers a free version of their app, but for those looking to unlock all the bells and whistles, they have a premium version available. Speechify Premium is priced at $139 per year, which breaks down to about $11.58 per month. If you're more into audiobooks, they have an Audiobook plan for $199 per year, and if you want both, you can bundle Text-to-Speech and Audiobooks for $249 per year​​.
Bottom Line
If you're looking to supercharge your reading experience and make the most out of your time, Speechify is worth checking out. Just be prepared to shell out a bit if you want to unlock everything it has to offer.
Looking for more AI-powered tools to make your life easier? Stay tuned for more reviews and insights. We've got the AI scoop you need to stay ahead of the curve.
Synthesis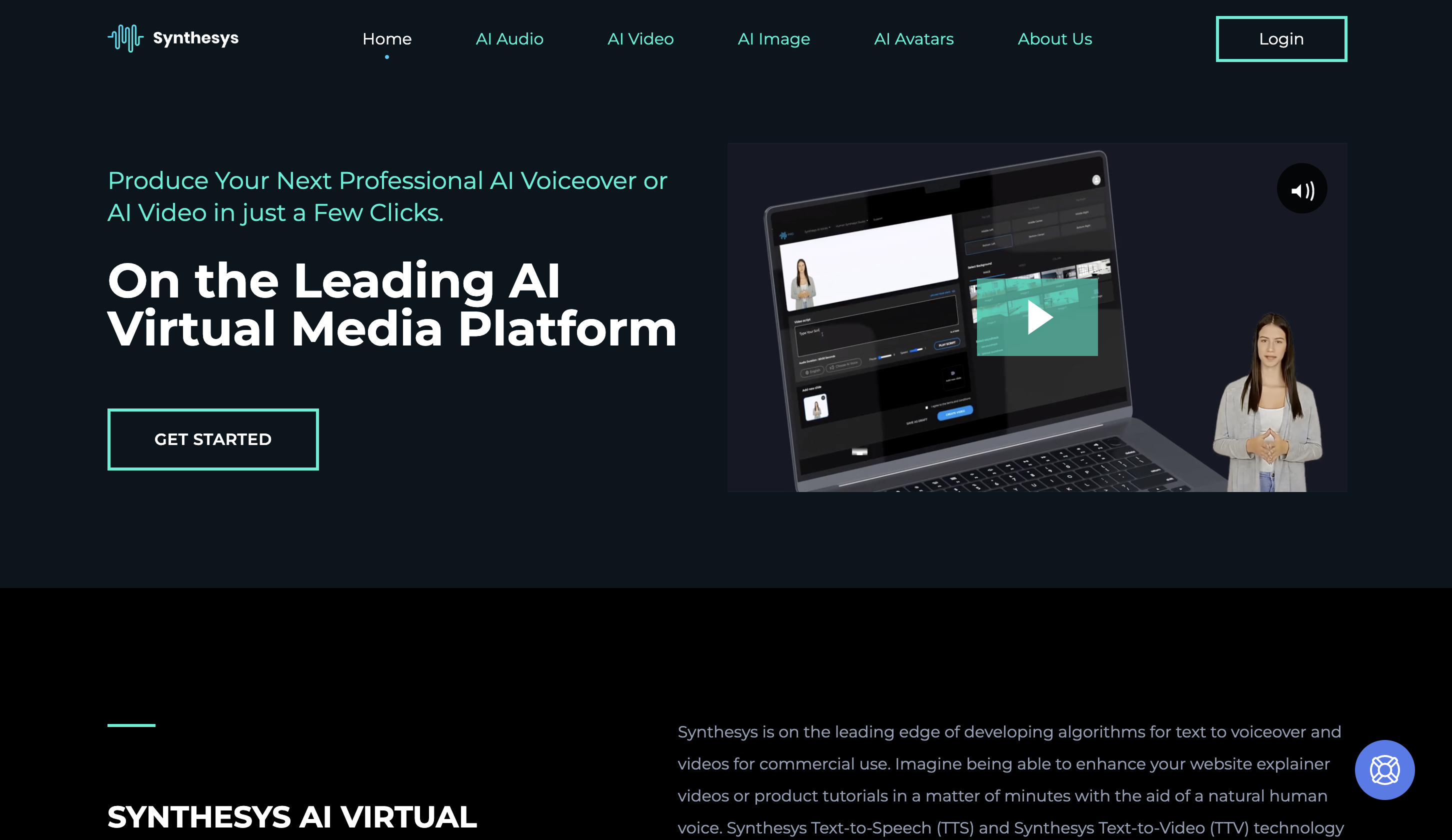 Overview
Synthesys.io is a one-stop-shop for your text-to-speech and text-to-video needs, developed by seasoned voice and video actors, linguists, and AI professionals. Their mission? To provide an on-demand TTS and TTV production platform that keeps getting better and better with continuous AI improvements. And the best part? It's newbie-friendly! So, no worries if you're just dipping your toes into the world of AI-powered voiceover and video production. With Synthesys, you'll be swimming laps in no time!
Features
Synthesys offers a cloud-based platform with best-in-class assets, including an extensive library of avatars and voices. And let's not forget about the real gestures, accents, tones, and delivery styles! The platform supports over 66 languages with 254 different voices, and even 15 synthetic human voices in English. It's like having an international chorus at your fingertips.
Pros
Newbie-friendly with step-by-step training videos.
Cloud-based platform – access it from anywhere with an internet connection, no software to install.
A wide range of languages and voices, including synthetic human voices.
Play an essential role in digital content creation worldwide.
Personalized content and synthetic media are the future of content, and Synthesys is at the forefront of this revolution.
Cons
The website didn't explicitly mention the pricing, a definite no-no for budget-conscious folks.
While it supports a ton of languages, there are only 15 synthetic human voices and all are in English. So, if you're looking for a synthetic human voice in another language, you might need to keep looking.
Pricing
Audio Synthesys: $27 per month, billed yearly, for unlimited voice-overs in 38 human voices across 140 languages.
Human Studio Synthesys: $36 per month, billed yearly, for unlimited videos with 73 "Humatars" and voice in 140 languages.
Audio and Human Studio Synthesys: $52 per month, billed yearly, for all features from both packages.
Bottom Line
If you're looking to bring your content to life with AI-powered voiceover and video production, Synthesys.io could be your new best friend. But remember, like any good relationship, you'll need to communicate – so don't be shy about reaching out to them for pricing details!
Want more AI tools in your arsenal? Stay tuned for my next post where we'll explore even more AI tools to help you conquer the digital world.
Explore Various Speech Synthesis Tools
AI voice generators have become increasingly popular due to their ability to create realistic celebrity voices. They offer a variety of speech synthesis tools, voice options, and pitch settings that cater to different user needs. For instance, some software provides multiple language support, while others focus on specific accents or dialects.
Users can find both free and paid versions of these applications. Free versions usually come with limited features but are perfect for those who want to test the waters before committing to a premium option. On the other hand, paid software typically offers advanced customization options and a wider range of voices.
User-friendly Interfaces for Text-to-Audio Conversion
A key element of the best celebrity AI voice generator is its user-friendly interface, which makes it simple for users to transform text into high-quality audio files.
This feature, powered by AI voice technology, is especially beneficial for gaming platforms, websites, and apps that require top-notch audio content.
For instance, game developers can take advantage of AI-generated voices for in-game characters or narration, eliminating the need to hire professional voice actors. Likewise, website owners can incorporate these AI voices into their online platforms as virtual assistants or customer support agents.
Furthermore, many AI voice generator software programs offer batch-processing capabilities. This allows users to convert large volumes of text at once, ultimately saving time and effort in the long run.
By utilizing AI voice technology, users can easily create engaging and realistic audio content for various purposes.
Compare the Best Speech Tools Online
When choosing an AI voice generator, it's essential to compare various speech tools available online based on their unique features, voice settings, and platform compatibility. Here are some factors to consider when selecting the perfect tool:
Voice quality: The realism and clarity of the generated voice play a significant role in determining its effectiveness.

Customization options: A good AI voice generator should offer extensive customization options such as pitch control or adding background music.

Platform compatibility: Ensure that your chosen software is compatible with your preferred operating system (Windows, Mac, etc.) or available as an online platform.

Pricing: Compare the pricing plans of different software to find one that suits your budget and requirements.
Some popular AI voice generators include:
Google Text-to-Speech: A versatile and widely-used tool that supports multiple languages and offers a wide range of voices.

Amazon Polly: Known for its realistic text-to-speech conversion, it provides numerous customization options and supports various platforms.

IBM Watson Text to Speech: This advanced software uses deep learning algorithms to generate high-quality speech output in multiple languages.
Best Mobile Apps for Celebrity Voice Changers
Voice Changer with Effects
Looking for the best celebrity voice changer app free? Check out "Voice Changer with Effects." This popular app offers more than 40 voice effects, including celebrity impersonations. Its user-friendly interface allows easy customization and sharing on social media platforms.
For example, you can transform your voice into that of a famous actor or singer and share it with your friends for fun. The app also includes sound effects like helium, robot, and chipmunk to add variety to your recordings. With its wide range of features and ease of use, "Voice Changer with Effects" is a top choice for those seeking a versatile celebrity voice changer.
Snapchat
Although primarily known as a widely-used social media platform, Snapchat also offers built-in voice filters and lenses that allow users to mimic celebrity voices and appearances. This fun feature can add a unique twist to your snaps and stories, making them more engaging for your audience.
Snapchat's voice changer capabilities may not be as extensive as some of the dedicated apps mentioned above, but they are a convenient option for those who already use the platform regularly. By incorporating celebrity impersonations into your content, you can keep things fresh and interesting for your followers.
Unique Applications of Celebrity Voice Generators
Enhancing Entertainment Experiences
Celebrity voice generators are revolutionizing the way we experience entertainment. In video games, virtual reality (VR), and augmented reality (AR) applications, integrating celebrity voices can elevate user engagement and create immersive experiences unlike any other. Imagine playing a game where your favorite actor guides you through an epic adventure or exploring a VR world narrated by your favorite singer. The possibilities are endless, and developers are just scratching the surface of how they can incorporate celebrity voices into their projects.
Speech voice generators allow users to personalize their interactions with technology by choosing celebrity voice filters for their devices. For example, Amazon's Alexa has offered Samuel L. Jackson's voice as an option for its virtual assistant since 2019. This not only adds a fun twist to everyday tasks but also demonstrates the growing demand for customizable tech experiences.
Personalized Marketing Campaigns
Businesses looking to make a splash in today's competitive market should consider leveraging celebrity voice generation technology in their marketing strategies. By creating customized advertisements and promotional content featuring popular celebrity voices, companies can increase brand appeal and capture customer interest more effectively than traditional methods.
Take Waze, the popular navigation app that frequently partners with celebrities like Morgan Freeman, Arnold Schwarzenegger, and Kevin Hart to provide unique driving directions using their iconic voices. These collaborations not only generate buzz around the app but also create memorable user experiences that encourage brand loyalty.
Moreover, utilizing AI-generated celebrity impersonations allows businesses to tailor marketing materials to specific demographics or target audiences who may respond better to certain celebs' endorsements—maximizing campaign impact without breaking the bank on hiring actual celebrities.
Voice Cloning for Film and Animation
Filmmakers and animators have long relied on talented voice actors to bring characters to life; however, advances in speech generator technology now offer a cost-effective alternative: high-quality voiceovers using celebrity impersonations. By utilizing AI-generated voice cloning, creators can maintain authenticity in their projects while saving time and resources.
For instance, the 2019 film "Gemini Man" starring Will Smith used AI-generated voice cloning technology to create a younger version of the actor's voice for his digital double. Similarly, Disney's "The Lion King" (2019) remake employed AI-based speech synthesis to produce realistic animal vocalizations that closely resembled the original animated film's iconic voices.
Real-Time Celebrity Voice Changers for PC
Instantly Transform Your Voice
Real-time celebrity voice changers for PC offer users the ability to instantly transform their voices into those of their favorite stars. These powerful tools are perfect for enhancing video editing projects with unique audio effects, making them stand out from the crowd. With a wide range of celebrity voices available, it's never been easier to switch up your sound and mimic your favorite actors, musicians, or other famous personalities.
For example, imagine creating a parody video featuring dialogue between Morgan Freeman and Arnold Schwarzenegger – with a real-time voice changer, you can easily perform both parts yourself without needing any advanced audio editing skills. The possibilities are endless!
Free Trials and Integration Options
Many voice changer software options provide free trials, allowing users to test out different programs and select the best celebrity AI voice generator for their needs. This is an excellent opportunity to explore various features and capabilities before committing to a purchase. Some popular options include Voicemod, AV Voice Changer Software Diamond, and MorphVOX Pro.
In addition to offering free trials, these real-time celebrity voice changers can be integrated into various applications such as gaming platforms (e.g., Discord), live streaming services (e.g., Twitch), or even video conferencing tools like Zoom. This allows users to add an extra layer of fun and immersion during online interactions by changing their voices on the fly.
How Does It Work?
So how does a celebrity voice changer work? Typically, these software programs use advanced algorithms that analyze the characteristics of a specific celebrity's voice (like pitch, tone, timbre) and apply those attributes in real-time to your inputted audio signal. In simpler terms: speak into your microphone while using the software, and it will process your speech in real time so that it sounds like you're speaking with the chosen celebrity's voice.
Keep in mind, though, that while these voice changers can produce impressively realistic results, they might not be 100% accurate. After all, every person's voice is unique and can't be perfectly replicated. However, the technology has come a long way in recent years, and many users find the results to be convincing enough for their purposes.
Get Creative with Celebrity Voice Changers
Real-time celebrity voice changers offer endless opportunities for creativity and entertainment. Whether you're looking to spice up your gaming sessions with friends or create hilarious parody videos for social media, these tools are an excellent addition to your digital toolbox.
Remember that practice makes perfect – spend some time getting familiar with the software and experimenting with different settings to achieve the best results. And don't forget to have fun while doing it! With real-time celebrity voice changers at your disposal, you can let your imagination run wild as you impersonate famous personalities like never before.
Comparing AI-Generated Voices vs Human Impersonators
Synthetic voices vs human voices
AI-generated celebrity voices offer consistent quality speech synthesis, while human impersonators may vary in accuracy and performance. With advances in AI technology and machine learning, synthetic voices have become increasingly realistic. Users can expect a high-quality speech voice from an AI video or audio content, as the AI text-to-speech algorithms are designed to mimic the natural rhythm and intonation of human speech.
On the other hand, human impersonators might struggle to maintain consistency in their performances. Some might be able to nail a specific celebrity's voice, but others could miss the mark entirely. The user rate for a successful impersonation will inevitably vary depending on the individual performer.
Naturalness and user experience
AI voice technology, powered by machine learning, can produce highly realistic and natural voices that are often indistinguishable from actual celebrity recordings. This level of authenticity is crucial when creating engaging audio content that users will enjoy consuming.
Human impersonators might struggle to maintain this same level of authenticity throughout their performance. Even if they're skilled at mimicking a particular celebrity's voice, it's challenging to keep up the act consistently without slipping up or sounding forced. As a result, users might find themselves getting pulled out of the experience due to these inconsistencies.
Efficiency in audio content creation
AI-generated voices enable faster and scalable production of audio content compared to hiring human voice actors or impersonators. With AI text-to-speech systems like those used for generating celebrity voices, creators can quickly convert written scripts into spoken dialogue with minimal effort.
This efficiency is especially beneficial for businesses looking to scale their content production without breaking the bank on hiring multiple human performers. Plus, since AI-generated voices don't require breaks or rest periods like humans do, you can churn out hours of high-quality sound without worrying about fatigue affecting performance quality.
In contrast, working with human impersonators can be time-consuming and costly. Scheduling, recording sessions, and editing all take valuable resources that could otherwise be spent on other aspects of content creation.
So, what we looked for when comparing AI-generated voices to human impersonators were factors like consistency, authenticity, naturalness, user experience, efficiency in audio content creation, and overall cost-effectiveness. While both options have their merits and drawbacks, it's clear that AI-generated voices offer a more reliable and scalable solution for businesses looking to create engaging audio content featuring celebrity voices.
Finding the Best Celebrity AI Voice Generator
So, you've checked out top AI voice generators for Windows, Mac, and online platforms. You've also explored the best mobile apps for celebrity voice changers and discovered unique applications of these generators. But wait, there's more! Real-time celebrity voice changers for PC are a game-changer, and comparing AI-generated voices vs human impersonators has given you some food for thought.
Now it's time to wrap it all up and find the ultimate best celebrity AI voice generator that suits your needs. Keep in mind the key points from each section:
Top choices available for various platforms

Mobile apps that offer flexibility on-the-go

Creative uses like prank calls or content creation

Real-time options for live streaming or gaming
Don't forget to consider factors like ease of use, customization options, and overall quality of generated voices when making your decision. And remember, sometimes even an expert human impersonator can't beat a good AI-generated voice!
Ready to dive in? Go ahead and test out different voice generators to find the perfect match. The world of AI-generated voices is vast – so don't be afraid to explore until you find your favorite celeb soundalike.
Happy hunting! And may your adventures in celebrity AI voice generation be both entertaining and successful!